PRAKASAM BARRAGE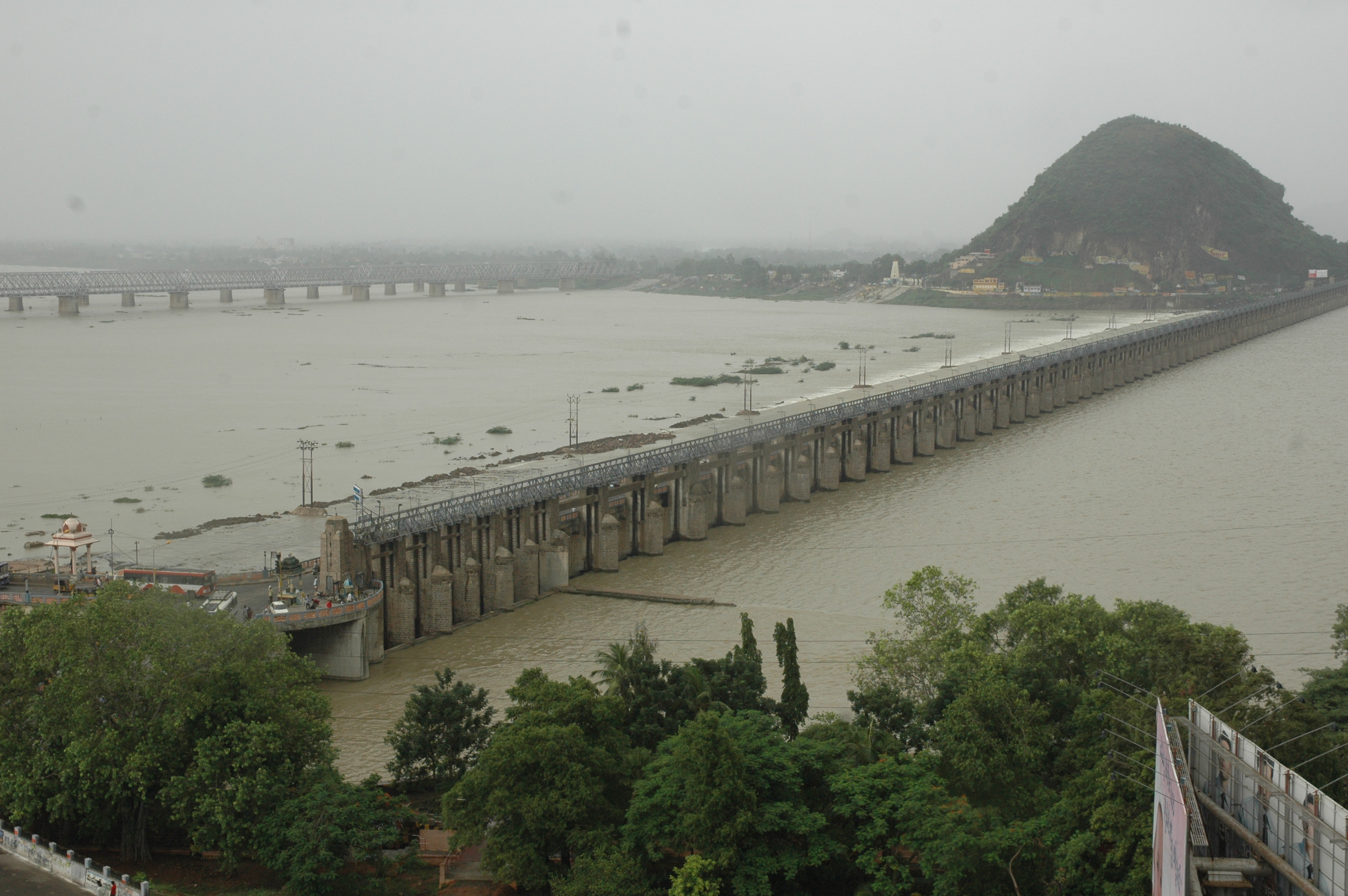 Preamble
The Krishna anicut with its canals for irrigation and flood banks for the protection of the Krishna delta from the floods was constructed from 1852 to 1855 at a cost of Rs. 2 crores. It was designed by Sir Arthur Cotton and was built by Capt. Orr. The barrage was built to irrigate an ayacut of 5.8 lakh acres.
Due to development of ayacut in Krishna delta, the anicut was incapable of providing water for irrigation. Since irrigation under river Krishna was developed in the uplands, other states were also fully utilizing the allotted Krishna water. The scenario necessitated construction of a structure, which can head up water 12 ft. above the crest of the anicut to cater to the needs of an ayacut of 13 lakh acres in Krishna, West Godavari, Guntur and prakasam Districts.
Thus, Prakasam Barrage was born. It was named after the great leader Sri Tanguturi Prakasam Panthulu, the barrage was constructed between 1954 to 1957 and costed Rs. 2.78 crores.
The Krishna River received historic floods during the period 2-10-2009 to 13-10-2009 at Prakasam barrage. The maximum observed flood inflow was 11,10,404 cusecs seen at 11.00. PM on 05-10-2009 which is the highest recorded flood discharge after construction of Prakasam barrage. The previous maximum flood discharge was 9,32,000 cusecs observed during the year 1998.
Salient Features
Constructed Year
:
1957
Length of Barrage
:
1232.92 M (4045.00 ft)
Latitude
:
16° 30' 34'' N
Longitude
:
80° 37' 57" E
Total Catchment area(Sq.Kms)
:
251372
Area capacity Curves (Water spread area)
:
30.00 Sq. Kms
Regulator
:
70 Nos of 12.19 M X 3.66 M each
Scouring sluices Left Side
:
6 Nos of 5.18 M X 3.66 M each
Right Side
:
8 Nos of 5.18 M X 3.66 M each
Levels
Floor of Regulator
:
+ 12.21 M (+40.05 ft)
Floor of Scour Vents
:
+ 11.06 M (+36.30 ft)
Sill Level of Regulator gates
:
+ 13.73 M (+45.05 ft)
FRL
:
+ 17.39 M (+57.05 ft)
Average River Bed Level at Regulator site
:
+ 11.28 M (+37.00 ft)
Bottom Level of the Floor of Sitanagaram
:
+ 8.53 M (+28.00 ft)
Under sluices
Vijayawada Under Sluices
:
+ 9.69 M (+31.80 ft)
Bottom of Wells
:
+ 4.88 M (+ 16.00 ft)
M.F.L. of Barrage (Designed)
:
+ 22.13 M (+72.60 ft)
Bottom of "T" Beams
:
+ 23.65 M (+ 77.60 ft)
Top of Road way on Bridge
:
+ 25.02 M (+ 82.10 ft)
Top of Regulator Hoist Bridge
:
+ 30.36 M (+ 99.06 ft)
Height of Shutters
:
3.66 M (+ 12-0 ft)
Three rows of cutoff wells of size
:
2.13 M X 3.81 M (7 X 12.5 ft)
| M.F.L. Recorded at | Anicut | Barrage |
| --- | --- | --- |
| M.F.L. Record on | 07.10.1903 | 05.10.2009 |
| Level in Front | +21.50 M (+70.55 ft) | + 20.97 M (+68.78 ft) |
| Level in rear | + 20.73 M (+68.00 ft) | + 20.57 M (+67.50 ft) |
| Maximum Discharge | 33,700 Cumecs (11,90,000 C/S) | 31,431 Cumecs(11,10,000 C/S) |
| Afflux due to interposition | 0.66 M (2.16 ft) | - |
Eastern Delta Head Sluice
| | | |
| --- | --- | --- |
| Vents | : | 6 Nos of 6.10 M X 3.35 M (20X11 ft) each |
| Discharge | : | 300 Cumecs (10, 600 C/S) |
| Length of Main canals | : | 370 KM |
| Sill level | : | +12.360 M |
| Vents New (Exiting) | : | +16 Nos 2.44 M X 2.90 M (8 X 9.5 ft) each |
| Discharge | : | +232 Cumecs (8, 200 C/S) |
| Length of Main Canals | : | +322 KM |
| Sill Level U/S | : | +2.210 M |
| Gross Storage | : | 371 TMC |
| Dead Storage | : | 130.16 TMC |
| MDDL | : | 854 ft |
| Ayacut Created | : | 6,79,000 Acres |
| Present Stage | : | Completed |